One of the exquisite beauties of Antalya is the Düden Waterfalls. We said "Waterfalls" because Düden Stream , which takes its source from Kepez Hydroelectric Power Plant, splits into two branches and the waterfalls in these two branches pour into the Mediterranean. One of the waterfalls known as Lower Düden and Upper Düden Waterfall, the Upper Düden Waterfall is currently also used as a picnic area andrecreation area .
For the most beautiful places to see in your Antalya trips, be sure to read our article on things to do in Antalya.
You can also take a look at our articles on Manavgat Waterfall and Kursunlu Waterfall in Antalya.
In Antalya, which is the pride of our country in terms of tourism potential, there is no end to the places to visit and discover. Duden Waterfall, which is one of the most important destinations you should add to your sightseeing stops during your Antalya visit, is a frequent destination especially for those who want to escape from the routine city life and breathe clean oxygen in the bosom of nature. Before going to Düden Waterfall, we recommend that you take a look at this guide.
Information About Duden Waterfall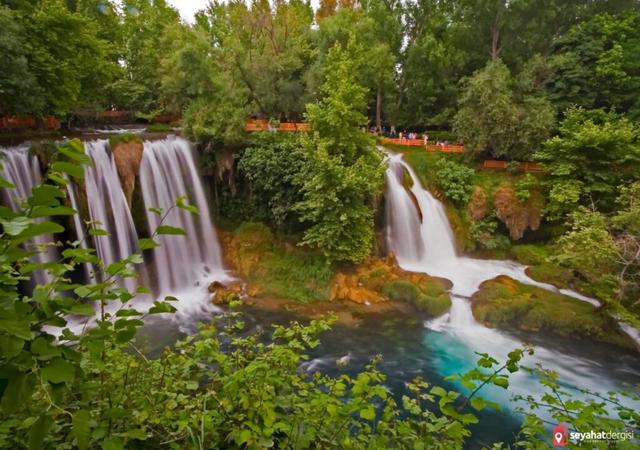 Düden Waterfall is located 10 km away from Antalya , Turkey's most important tourism center . Being so close to the center; It strengthens the tendency of hundreds of thousands of tourists who come to the city for sea, sand and beach to visit Düden Waterfall. Düden Waterfall, which is flooded with tourists especially in the summer months, evokes a sense of admiration with its magnificent appearance.
Watching the flow of water flowing from a height of 40 meters is a great pleasure for those who visit this place. It has two branches, the Lower Düden and the Upper Düden . The main element that makes Düden Waterfall so privileged is the authenticity of the atmosphere around the waterfall. Those who come here not only watch a waterfall that flows from 40 meters above; at the same time, it can enjoy being intertwined with a geography where it will witness every shade of green.
It is said that Alexander the Great gave water to his horses from this waterfall while he was passing through the region. For this reason, Düden Waterfall is also referred to as İskender Waterfall in some sources.
Video
Duden Waterfall Properties and Formation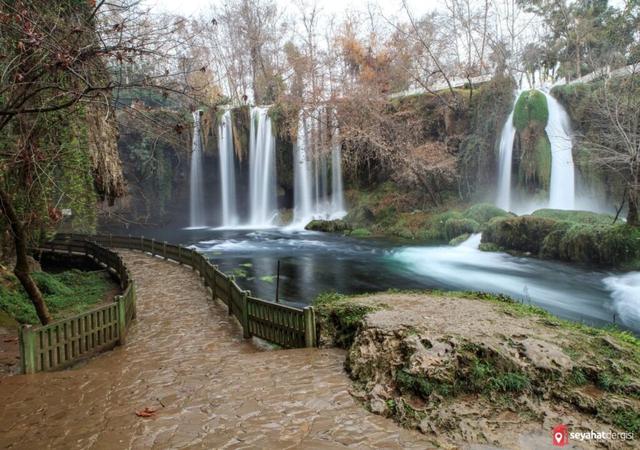 The Düden Waterfall, which takes its name from the stream it is poured into, pours into the Mediterranean. The waterfall, which has two branches, takes its source from Kepez Hydroelectric Power Plant. The waterfall that is more suitable for picnics is Yukarı Düden Waterfall. For this reason, this arm attracts a little more attention from visitors.
An average of 3 million people visit Düden Waterfall in a year . There is also a cave worth seeing very close to the waterfall . The giant cavities formed in this cave resemble a window. It is also possible to watch the waterfall flowing through these hollows. The ancient rock tombs in the surrounding area also prove the fact that the region is an old settlement.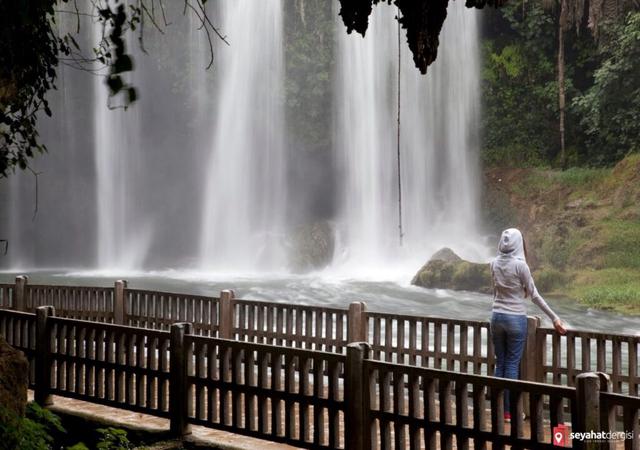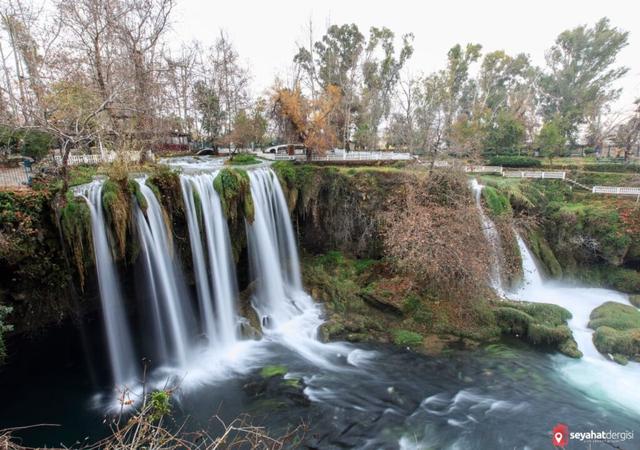 What to do in Duden Waterfall?
Düden Waterfall is one of the most privileged natural beauties of our country. Düden Waterfall, which maintains its flow both in summer and winter months, promises many activities both with its own potential and with its surroundings. You can take pleasant walks in the areas surrounding the waterfall and have a picnic with your loved ones in suitable areas .
You should never neglect to take photos around the waterfall . Because let us remind you that Düden Waterfall has a very suitable background for taking pictures from an aesthetic point of view. Due to the increasing interest in Düden Waterfall, many eating and drinking restaurants or breakfast places have been opened around it. If you wish, you can take a short break with your loved ones and enjoy these exciting places intertwined with nature.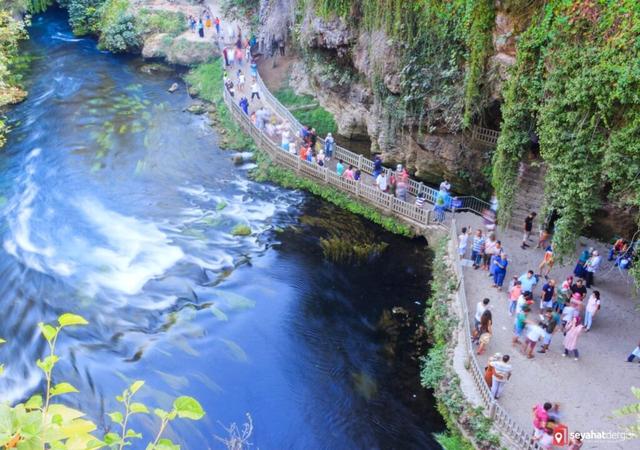 What to Eat in Duden Waterfall?
There are generally meat and fish restaurants around Düden Waterfall. Various Cafe & Bistro venues, cute places where you can find home-cooked meals and even pancakes attract great attention from the visitors. We can say that the restaurants with traces of the Mediterranean culture add a great color to this place.
Duden Waterfall Breakfast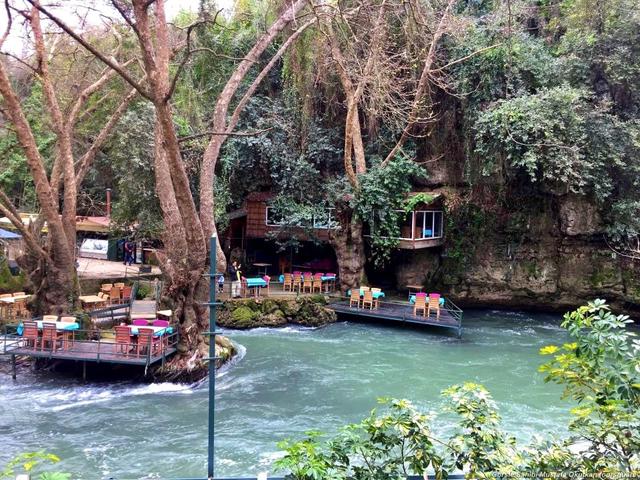 Especially authentic looking breakfast places with cedars around Düden Waterfall attract attention. It must be a great happiness to share the pleasure of breakfast with your loved ones while breathing the fresh air. You should personally experience what a privilege it is to have breakfast with the wonderful scenery and the soothing melody of the waterfall.
When to go to Duden Waterfall?
Visits to Düden Waterfall usually start slowly in April. Spring and summer periods, there is a great interest in Düden Waterfall. Since the flow rate difference is low, going in the winter months will not cause great handicaps. Nature enthusiasts can visit the region during the winter months.
Duden Waterfall Entrance Fee
The entrance fee to the waterfall is 10 TL for adults, 5 TL for students and 5 TL for the parking lot . The museum card is not valid here. Entry is free for the disabled, relatives of martyrs, veterans, and those over 65 years old.
Düden Waterfall Visiting Hours and Days
You can visit Düden Waterfall between 08:00 in the morning and 19:30 in the evening. This, of course, is the clock for the summer season. In the winter months, this period is slightly reduced due to the decreasing interest. During the winter months, new visitor admissions usually end after 18:00 in the evening.
Where is Duden Waterfall?
The waterfall is located in Kepez district of Antalya province. The waterfall, which is 1 km away from Varsak, is also only 10 km away from Antalya Center. Those who will go with their personal vehicle can reach the waterfall by coming from the Varsak Road.
How to get to Duden Waterfall?
To go by bus; 
Those who want to go to Düden Waterfall by bus can use the municipal buses VC30, CV17, CV17A, VC30, VL62, VF66, VC69, 524 and 524A.
To go by minibus; 
It is also possible to come to the waterfall by taking the Varsak minibuses from Antalya Center.
Map and Location
You can find the map and transportation  alternatives  for the waterfall in the location information section.
Check out our list of the best hotels in Antalya, which includes the most luxurious hotels in Antalya.
You can share your travels and experiences with us by commenting on our article.